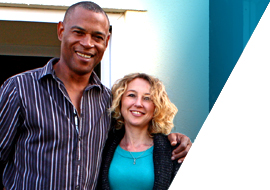 Michael joined Outset Bristol's Start-up Programme with a simple goal: to find a way of generating much-needed income to survive. He explains, "I saw an advert in the local paper asking for hosts for foreign students, and thought, 'I could do that'". Seeing an opportunity to create a hostel business, but lacking the know-how to go about doing it, Michael turned to Outset Bristol: "It was incredible that this service was free to use; it meant I could access the skills and knowledge I needed to get started."
Michael had some core skills gaps to fill before he could get started, and worked his way through Outset's Introduction to Enterprise and Business Start-Up modules. Each module comprised eight workshops covering a range of topics – from marketing and sales, to tax and basic bookkeeping – and left Michael feeling more confident about his ability to move his business forward.
As he progressed through the course, Michael also received practical one-to-one mentoring and guidance from an Outset business advisor, and within a few months, officially registered his business, Homestay Bristol. He was immediately inundated with calls from schools asking for rooms.
From those humble beginnings, Michael has expanded his business, acquiring three hostel properties with a total of 75 bed spaces, and employing seven members of staff.
He explains, "We have positioned ourselves somewhere between the YHA and a budget hotel, extending our market to include stag and hen parties and sports groups as well as visiting schools.
"We are now considering taking on a new property allowing us to offer more upmarket rooms aimed at holidaying couples."
"I found the Outset Bristol programme very useful and inspiring. My confidence has grown in many areas and I left the course better equipped to face the multitude of problems that occur while running my business."
 If you were moved by Michael's story, donate now.