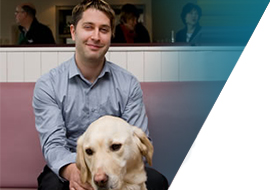 Having lost his sight during an operation, Stu Williams had struggled with unemployment for over five years. Whilst self-employment seemed the only viable career option, he was unsure how to set about realising his inchoate ambition: to utilise his previous experience as a DJ to launch a community radio station for his hometown of Redruth. Enter: Outset Cornwall.
Referred to Outset by his local Jobcentre, Stu quickly began exploring his idea with a dedicated mentor. He explains, "I had previously gained some experience working in community radio, having done some volunteering with Source FM in Falmouth. This enabled me to experience firsthand how volunteering on community radio really can change someone's life. So I set out to replicate the model. "My development worker saw my potential as a social entrepreneur, and advised that I should consider a social enterprise rather than a traditional business. So that's the route we took."
Outset's Introduction to Enterprise programme helped Stu to develop the many skills that are essential to any new business. And his confidence grew accordingly – culminating in his application for an Ofcom licence in 2010. Stu's station – Redruth Community Radio – was granted its FM licence in 2013. Today, the station broadcasts 30 live shows involving over 50 volunteers each week and provides training in a range of valuable job skills including journalism, reporting and sound engineering.
"Living with a visual impairment means that paperwork and especially figures are very difficult to deal with, but Outset was absolutely brilliant. Through Redruth Community Radio I'm now able to give something back – engaging with hard to reach and disadvantaged areas of the community to inspire greater community cohesion through outreach projects and live entertainment."
 If you were moved by Stu's story, donate now.