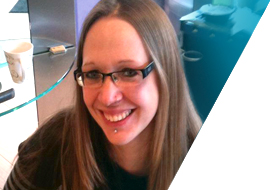 With a background in design, spanning work in advertising, marketing and publishing, Eleanor Stafford had the skills needed to support her proposed target market of start-ups and SMEs. What she lacked, was the confidence and self-belief to make it happen.
Eleanor explains, "I had wanted to become freelance for some time but lacked the confidence to really go for it. Being made redundant for a second time provided the push I needed to see if I could make it work."
Determined to seek support for acquiring the essential business skills needed to 'go it alone', within a very short period of time, she turned to Outset Torbay and immediately started to feel more comfortable about the process. Through Outset Torbay's weekly workshops, Eleanor began working with the team's dedicated advisers to build her self-confidence and test her business assumptions, whilst progressing through the Introduction to Enterprise and Business Start-up programmes.
She says, "The Outset programme flagged up areas I hadn't previously considered. It has helped me to build a solid foundation for starting my business. I now feel confident in my new venture.
"Just knowing that the Outset advisors are on hand if I need them is a massive help."
Eleanor launched her new business, Designed by Eleanor, in February 2012.
Today, her company supports a number of small firms in the region with a range of design services including logos, business cards, flyers and advertising materials.
Eleanor also manages the premises from which she runs her studio, Torquay's Studio 181, which offers affordable office space for creative professionals wishing to work in a studio environment.
"I am very passionate about creative design and love what I do, but I've always struggled with self-belief. Outset Torbay has helped me to gain the confidence I need: the weekly sessions have kept me motivated and the ongoing support has proved invaluable."
 If you were moved by Eleanor's story, donate now.