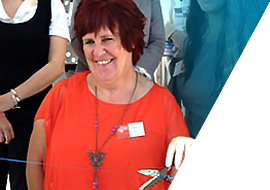 When degenerative joint disease forced Amanda Drake-Worth to resign from her full time job, her career options appeared limited: with unemployment in the Plymouth region on the rise – and a pending ankle fusion operation set to leave her out of commission for several months – the likelihood of her finding alternative employment seemed slim.
Then, by chance, Amanda spotted an ad for the Outset programme in her local shopping centre. And the seed of an idea – and a new business – was sown. Amanda enrolled on Outset Plymouth's Introduction to Enterprise programme right away. She explains, "I'd always loved the idea of being my own boss. So the decision was an easy one.
"One of the trainers suggested that an existing skill of mine, sign language, might provide the basis for a business teaching sign language to pre-school children with hearing and learning difficulties. I agreed, and Happy Signers was born."
Following a series of one-to-one sessions with Outset Finance, Amanda was able to create a business plan and identify potential sources of finance for the venture, the first of which – South West Investment Group – immediately awarded her a £2,000 loan.
From those humble beginnings, Happy Signers has grown to employ three freelance tutors and, as an accredited British Sign Language School, now also offers BSL Introductory courses to parents and professionals.
"I would not be where I am today without the Outset courses. Not only did I learn an incredible amount; I also met many new friends and colleagues."
 If you were moved by Amanda's story, donate now.