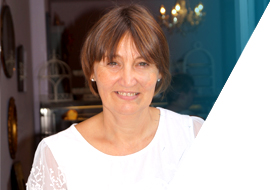 As the Tourist Information Officer for St Neots for over 11 years, Alison Gardner has an intimate knowledge of both the attractive market town and the surrounding area. So when her position with the Tourist Information Centre became redundant – and she resolved to start her own business – there was really only one choice of location.
Realising the need for guidance to launch that business, a traditional team room, Alison contacted Outset Huntingdonshire, which provides free-to-use start-up support to local people who are considering 'going it alone'.
As well as attending the programme's Business Start-up workshops, she met regularly with an Outset advisor for one-to-one mentoring sessions to assess the viability of her idea.
By April 2013, Alison's hard work and perseverance paid off, when a unit became available off the High Street in the shadow of St Mary's Church and a World War II memorial. Immediately, she realised she had found the right spot. And three months later Poppy's Vintage Tearooms opened for business.
One year on, visitors to Poppy's are greeted with an authentic 'vintage' ambiance and a range of teas, light lunches and snacks. Reviews have been extremely positive. And revenues continue to grow creating the need for five members of staff.
"Outset Huntingdonshire gave me a real insight into how to set up a business and the hurdles you may need to overcome. I found the courses and in particular the sessions with my advisor to be very useful."
 If you were moved by Alison's story, donate now.